Did the re-appointment of Chairman Powell on the 22nd light the proverbial spark under the rate market that will lead to a sustained move to higher in rates, a steeper yield curve, a hastening of the tapering program, and a final sign that the end of the easy money days is officially here (as evidenced by the continued lack of faith in gold)
It's obviously hard to say, and gold has hardly been an accurate indicator for just about anything for years, but judging by some of the massive bearish technical reversals witnessed in the tech sector late Monday afternoon, we have to wonder if the fear of higher rates and subsequent re-setting of valuations aren't underway. As long as inflation readings remain elevated the Fed has a green light for more hawkish action.
It was particularly glaring in the corporate bond markets where we saw sustained moves lower in prices as clearly evidenced by the chart below.  It's possible that this week was just an overreaction amidst a holiday-thinned tape and that we will resume the anticipated Santa Claus rally next week when everyone is done with their turkey.  But it was interesting action nonetheless.
The market wanted Powell to keep his job and stick with the guy that got us through the pandemic and is set to implement a tapering plan.  A shift to Brainard, despite the really easy money policy that likely would have followed, would have been poor for the financials and ushered in more uncertainty in an already uncertain world.  So, the markets got what they wanted but as the tired saying goes…" careful what you wish for" …it could end up looking like this.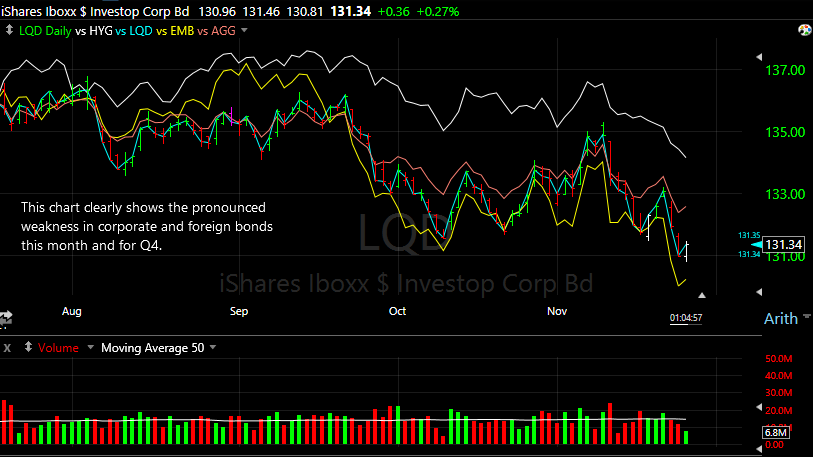 "In the midst of chaos, there is also opportunity" – Sun Tzu